Pittsburgh Venkateswara Temple
Sri Venkateswara Temple is the anchor of the Indian community in the greater Pittsburgh area.
Located in the eastern suburb of Penn Hills, Sri Venkateswara Temple is one of the earliest Hindu temples to be built in the U.S.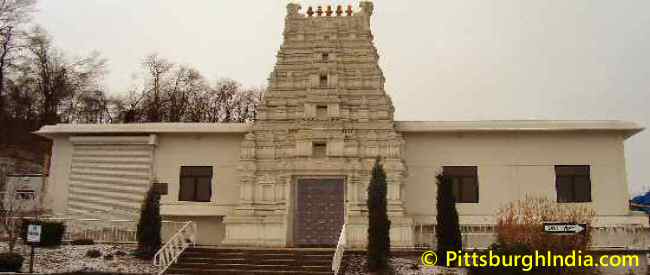 The main deity in the temple is Venkateswara, a representation of Lord Vishnu.
The temple is modeled after the world famous Venkateswara temple in
Tirupati
in South India.
Deities at the
Sri Venkateswara
temple include Lord Balaji, Lord Ganesh, Lord Shiv & Godess Parvathi.
Facilities in the temple include an auditorium & canteen. Temple organizes Balavihar & senior Balavihar classes.
The temple is located at 1230, South McCully Dr, Penn Hills, PA 15235
Venkateswara Temple Hours
Summer Hours
Mon-Thurs, Sat & Sun: 9:00 am - 8:30 pm
Friday: 9:00 am - 9:30 pm
Winter Hours
Mon-Thurs, Sat & Sun: 9:00 am - 7:30 pm
Friday: 9:00 am - 8:30 pm
Balaji Temple Canteen Hours
Weekdays 9:30 am - 8:30 pm
Weekends 9:00 am - 8:30 pm
Sri Venkateswara Temple Canteen Review
Other Hindu Temples in Pittsburgh